Win a Fortune with your Patcards Link Page!
With Patcards Link Pages you can win a Fortune of Fans, Fame and Prize Money up to $250.000! Registered Patcards Link Page users can join the Fortune Campaign from Captain Galaxy using their unique Fortune Code! Currently the Fortune Jackpot holds a total of $250.000 in prize money. This will be spend on Patcards Link Page users that have joined the Fortune Campaign.
Fortune Campaign
In prepartion of the release of Patboy Card Game Captain Galaxy and Pikchu have been assigned by Patboy Cash to save the world from the depressed daywalkers!
In order to achieve this goal they have to:
Carefully spend the  $250.000 on Fortune Babes that join their campaign.
Use the Patboy Hustler Card Game and inform the Fortune Babes that Patboy Cash asks their #Patcard in return for the Jackpot Cash.

The amount of #Patcards that can be created are limited to 100.
Visit the website of Captain Galaxy
How does it work
With a Patcards Link Page and a Unique Fortune Code you can join the Campaign. In order to earn the biggest Jackpot reward you want to be collecting as much Fortune Points on your Link Page as you can. At the end of the Campagin, Captain Galaxy will pay you the total amount of Fortune Points you collected in real Cash in return for your #Patcard. If you accept this deal your Patcards Link Page details will be gamified onto a #Patcards (Collectors Gamecard) which will be published in the upcoming card game "Patboy Hustler".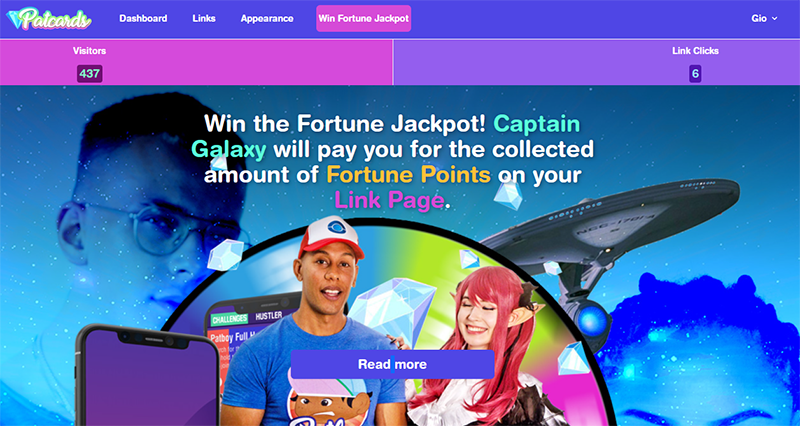 Click the "Read More" button and enter your Unique Fortune Code in order to join the Fortune Campaign with your Patcards Link Page. We advice you to completly fill in your Patcards Link Page details in order to improve the chances of joining the Campaign!
* In need of a Unique Fortune Code? Click here.